Introducing Wood and Glass Candle Holders
Landy is thrilled to unveil our latest addition to the collection – Wood and Glass Candle Holders. Combining the timeless beauty of wood with the delicate allure of glass, these candle holders offer a captivating way to illuminate your space and create an enchanting ambiance.
Crafted with meticulous attention to detail, our wood and glass candle holders showcase the perfect harmony between natural elements and contemporary design. The wooden base provides a sturdy foundation, while the transparent glass enclosure allows the warm glow of the candle to shine through, casting a mesmerizing play of light and shadows.
The combination of wood and glass offers a versatile aesthetic that effortlessly complements a range of interior styles. Whether your decor leans towards modern and sleek or rustic and cozy, our wood and glass candle holders add a touch of elegance and sophistication to any setting.
Not only do these candle holders serve as beautiful decorative pieces, but they also prioritize safety and functionality. The glass enclosure protects the flame from drafts, ensuring a steady burn while allowing you to enjoy the flickering glow without worry. The wooden base adds stability and acts as a heat-resistant barrier, providing an extra layer of protection for your surfaces.
Our wood and glass candle holders are available in various sizes, shapes, and designs to suit your personal style and preferences. From minimalist cylindrical holders to intricately carved patterns, there is a candle holder that will perfectly complement your decor and elevate the atmosphere of any room.
In addition to their aesthetic appeal, these candle holders are crafted using sustainable materials. The wood is sourced from responsibly managed forests, promoting environmental conservation and reducing our carbon footprint. By choosing our wood and glass candle holders, you embrace a conscious lifestyle while enjoying the beauty and warmth they bring to your space.
Experience the captivating glow and elegant charm of our wood and glass candle holders. Whether you're creating a cozy atmosphere for a romantic evening or adding a touch of magic to your everyday life, these candle holders are the perfect choice.
Visit our website today to explore our collection and find the ideal wood and glass candle holder that will infuse your space with a captivating glow and timeless beauty.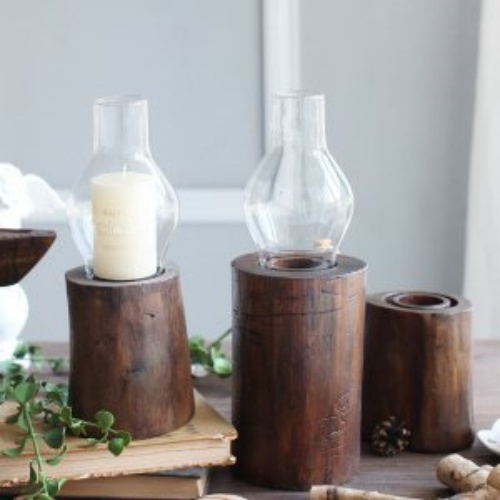 Landy is established in 2007. we engaged in the research development and sale of wooden products. Our main products: wooden box, wooden tray, wooden decoration,wooden shelf, wooden pet products ,wood photo frame and so on. Different machines are equipped with in our factory to meet different orders' requirements.
Get a quote or OEM service, Please contact us: WhatsApp And Phone: +8615166867527 or Email: crystal@ytlandy.com